Shopping Cart
Your Cart is Empty
There was an error with PayPal
Click here to try again
Thank you for your business!
You should be receiving an order confirmation from Paypal shortly.
Exit Shopping Cart
We are ideally situated between the coast and the mountains, being within easy reach of all that this magnificent area has to offer.​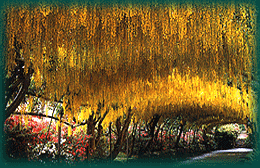 Bodnant Gardens
Bodnant Garden is one of the most beautiful gardens in the UK, spanning some 80 acres and is situated above the River Conwy on ground sloping towards the west and looking across the valley towards the Snowdonia range.
Conwy Castle
Built for King Edward I between 1283-87, Master James of St George's design at Conwy remains one of the most outstanding achievements of medieval military architecture. The distinctive elongated shape, with its two barbicans, eight massive towers and great bow-shaped hall, was perhaps determined by the narrow rocky outcrop on which the castle stands. World Heritage Site.
Portmeirion Village
Clough Williams-Ellis built Portmeirion from 1925 to 1975 on a peninsula off the coast of Snowdonia to show how 'the development of a naturally beautiful site need not lead to its defilement'. He fought for Beauty - "that strange necessity". Portmeirion is owned by a Registered Charity called The Second Portmeirion Foundation and managed by Portmeirion Limited.
Snowdon Mountain Railway
Majestic Snowdon dominates the glorious, ancient landscape of North Wales. At 3,560ft (1085m) it is a true mountain and a place of legend - said to be the burial place of the giant ogre Rhita, vanquished by King Arthur. Some believe that Arthur's knights still sleep beneath. Since 1896, the Snowdon Mountain Railway has been making it easy to claim this mountain peak as one of your lifetime achievements
Snowdonia National Park
The official website of Snowdonia National Park.
Welsh Mountain Zoo
Set in North Wales, high above Colwyn Bay with panoramic views and breathtaking scenery. Spend a perfect day at this family friendly Zoo, in the company of rare and endangered animals from Britain and around the World including red pandas, brown bears, monkeys and tigers!
/